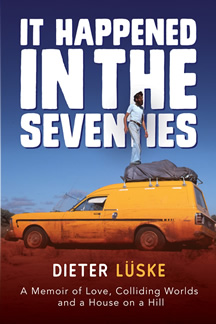 E-copy available now - view now

A Memoir of Love, Colliding Worlds and a House on a Hill - Dieter Luske - Writer
An intriguing story of personal risk-taking, self-discovery and profound change.
More than just a Sea Change. Changing countries and finding oneself by circumventing Australia twice, living in a panelvan for two years. Resolving health problems and eventually becoming a Naturopath leaving the old life behind.
An inspiring read of a life-changing escapade Down Under - Phil Brown - Arts Editor The Courier-Mail
Book launch - February 2023 - pre-order now -
Dieter Luske -> Author Profile - It happened in the seventies
Acne Therapy - Natural Therapies and Active Prevention for Acne ... read more
Acid or Alkaline? What does this actually mean?
Allergies - Are you allergic to the 20th Century? (aren't we all?) - For the last two hundred years, industry has evolved so fast that our bodies have not had the time to develop defences against many of its by-products .. read more
Active Preventative Holistic Health Care - The defining "Split" of the Natural and Medical Systems.* - Medical History re-visited.
Antioxidants - The term "antioxidant" refers to the activity inherent by numerous vitamins, minerals and other phytochemicals to serve as protection against the damaging effects of highly reactive molecules known as free radicals.. . read more
Arthritis - Arthritis is a common problem and is wide spread in the community. - Treatment or management step sfor different types of arthritis.... read more
Ayurveda/Ghee - Clinical application of Ghee - read more ... What is Ghee
Ayurveda/Osteoarthritis - Osteoarthritis (Sandhighat Vata) is a Vata disorder in which excessive Vata energy causes dryness in the joints followed by pain, swelling and stiffness of affected joints. ... read more

Baby Nappies- Cloth or Disposable, Is there really a difference?... read more
Bad Backs - Suffering from a bad back or neck, or just feeling stiff with muscle soreness and need your muscles stretched and better circulated? Therapeutic Massage and allied Therapies are the answers .... read more
Bloatedness - Indigestion, wind, flatulence belong all to that elusive group of digestive problems, and one of the results is that you somehow feel uncomfortably bloated, and if this is not corrected it may result in lose stool or diarrhoea. ... read more
Carpal Tunnel & Repetitive Stress Injury in Musicians. - Carpal Tunnel symptoms are cumulative. "Once you begin to feel pain, you need to make changes to prevent further damage. " ... red more
Childhood Obesity - The prevalence of Childhood Obesity has escalated greatly. Figures indicate that one quarter of all children and adolescents in Australia are considered to be overweight or obese ... read more
Diet and Pregnancy Health - Let's start by the things to as much as you can ... read more
Dry Skin - 9 Steps to prevent Dry Skin - Dry skin may get worse during winter, read more
Energy - Creating Energy & Vitality - What would you attempt if you had all the energy you could wish for? ... read more
Essential Oils - Essential oils have many therapeutic properties ... such as: antiseptic, etc ... read more
Harmful Stress - Natural harmful stress management ... These days the psyche of the modern human being is more burdened than ever before and, depending on the constitution and life situation, this stress poses a thread to health. ... read more
Herbs for Fertitliy - Herbal remedies are not intrusive and can work wonders for both male and female infertility. ... read more
Herbal Sleep - the most common cause for sleeplessness is stress and worry! - Some rules, and some old fashioned traditional herbs may help you sleep. ... read more
Herbal Tictures - By using liquid herbs you are getting medicine that is compounded especially for you. ... read more
Herbs as Medicine - Various types of herbal medicine have been used for thousands of years to successfully treat disease and support health; why are we still doubting the medicinal properties of herbs? . ... read more
Hidden powers of our subconscious mind - We are all split personalities. - We have one "mind", but this mind has two distinct aspects, that each play a different part in our lives.
History of Homeopathy in Victoria - As far as it is known, Homeopathy has been in Australia since the early 1850's and was ... read more
HOMEOPATHY Reviewed - Homeopathy, despite being practiced worldwide, has its fair share of controversy attached to it.
Immune System - There are battles going on inside your body, 24 hours a day, seven days a week. - All the antibiotics, vaccines, and medications don't compare to your own immune system. ... read more
Lose Weight - Help for Obesity and Weight Problems... Only in about 10% of cases can a permanent weight loss be achieved by diet alone. ... read more
Massage-Benefits - Touch with your hands, feel with your heart, heal with your soul. - read more
Organic Wine Info - One misconception about Organic Wine in Australia is that it contains no preservatives.... read more
Phytoestrogens - Plant Hormones - It is preferable to obtain phytoestrogens via whole foods instead of isolated ingredients in a tablet. ... read more
Prostate Health - Men's Health - A Holistic Approach - Negative Lifestyle changes in the 50 plus age bracket accelerate prostae problems .... read more
Stop Smoking Australia - how to quit? - Facts & Information on Holistic Anti Smoking Treatments
Weight Loss Guidelines - 12 steps to successful weight loss ... read more
Disclaimer:
The information provided in these articles is intended for general use and for personal interest only. It should not be used or understood as suggestion or medical advice.
For Question or Feedback, please contact : Dieter L. - Editor