What is Iridology?
Facts & Information on Natural Therapies & Treatment Modalities
Article provided by :
---
What is Iridology?
... and how is Iridology used by Natural Therapists.
Iridology is the study of patterns and structures in the iris of the eye. It locates areas and stages of strength, weaknesses, irritation, under or over-activity, congestion and possible inflammation throughout the body.
NOTE: The iris is a good indication of body constitution, showing inherent strengths and weaknesses, and an ideal indicator for preventative health suggestion.
Iridology is NOT a diagnostic tool to name a specific disease.
However, together with taking a health history and other diagnostic procedures, the iridologist may conclude that a certain problem in a body exist and will endeavour to support the body to overcome that condition.
For a quick look, an Iridologist my use a torch and a magnify glass to have a close look at your eyes and their colour, lines and patterns.
However, the preferred way is to take a picture of each eye, this will give the Iridologist time to study the eyes, and it helps to show the pictures to the patient to explain the different signs and possible symptoms.
Iridology is only one part of the over all health history taking process. it is NOT intended to be the only way to look for indications of weaknesses.
Eye/iris pictures are also a good tool to compare the irises if another picture is taken after a completed treatment protocol.
The irises show distinct areas for each part of the body. The right eye show the right side of the body, the left eye the left side.
The area close and around the pupil indicates the digestive tract.
Colour and patterns in that area are used to help determine various digestive tract disease issues.
An underactive digestive tract is easy to recognize, and can be remedied with diet protocols and possible herbal or nutritional supplements to encourage better digestion.
The medical health system does not recognise iridology as an effective diagnostic tool, even so, Doctors themselves use various signs in and around the iris as diagnostic indication, such as anaemia, recognise by a bluish tint around the iris.
See below some typical iris pictures; as one can see, the lines are very distinct and each eye is totally different from one person to another.
It must be stressed here again, Iridology is not a tool to diagnose a disease, rather it is used to determine the constitution, strength and weaknesses of a person, as well as over or under function of various body system.
The difference between how an iris looks in a young active person compared to an older under-active person is profound.
If an Iridologist sees obvious under-active signs in a younger person, treatment suggestion will be given to counteract those signs with preventive natural therapy advice.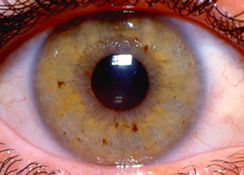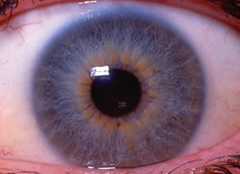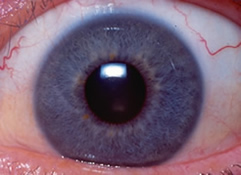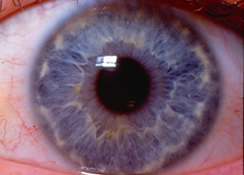 Above iris pictures are from 4 different people - just as an exercise, look closely at the ring of fibres around each pupil, the different structures and colours are obvious.
---
Iridology is an "elective" modality for a Naturopath, it is not a primary modality, such as evidence based nutrition studies.
Naturopaths are often called "Holistic Practitioners", because they believe that a patient has to be seen and treated as a whole person and not just as separate parts, which may present certain symptoms.
Iridology is a holistic way of looking at a person.
Holistic Practitioners or Holistic Natural Therapy are "General terms", not treatment modalities.
Holistic simply refers to the concept of seeing the physical, mental, as well as spiritual body and social indication all as of the same whole part.
Most categories within the Natural Therapy field have an underlying philosophy of treating holistically, considering and supporting the whole person, not just a part of it.
This is contrary to the medical system which treats symptoms and individual parts of a whole being.
NOTE: Skeptics argue that Iridology is a pseudo sciences [1]. If however, an iridologist argues that Iridology cannot actually diagnose a disease, the skeptic calls this argument the fallacy of "special pleading", meaning the invention of a special rationalization for each fact that might otherwise falsify a claim or belief.
This fallacy is a convenient tool skeptics like to use, if they make false claims about a fact.
This needs providing adequate justification, which is as follows:
Because Iridology is not "claiming" to be a medical diagnostic tool, the skeptic's argument that it is 'not a medical diagnostic tool' is ridiculous and loaded with delinerate misconception. - Iridologist know that already.
Iridology is simply what it is suppose to be, a method to see an indicate: strength, weaknesses, irritation, under or over-activity, congestion and possible inflammation. And further more, it is only an adjunct to "health history" taking.
NOTE: useNature's recommendation: Patients wanting an Iridology reading, should consult an accredited Naturopath, this will assure proper usage of Iridology in combination with a medical history.
Typical natural treatment modalities which use Iridology as a diagnostic guide or method are;
Article by:
---
"Naturopathy under the Microscope" Menu:
Disclaimer:
The information provided in this article is intended for general use and for personal interest only. It should not be used or understood as suggestion or medical advice.
[1] Pseudo science is a claim, belief, or practice presented as scientific, but which does not adhere to the scientific method. - However, to be claiming something is a Pseudo science, someone has to claim that something is science first. With other words, if there is NO CLAIM, than it can't be Pseudo science.
In the case of Iridology, it is not a Pseudo science, because no one claimed that it is a science.