Everything seems to be about cooking these days. There are that many cooking shows on TV you hardly know how to avoid them.
A blog about cooking obviously is nothing new or unique either, but this one adds a bit of a difference.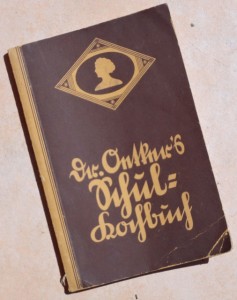 I got some very old cookbooks, one is from 1927 and it's called " Dr. Oetkers Schul – Kochbuch " .. in English, you probably could have guessed it; "Dr. Oetkers School Cookbook".  I will take a picture of it later.
I guess this book or lets call it booklet could be considered an Antique, it's amazing that it survived the war. The other book is a German Cook book from the late 1950.
I am a bit of a sucker for German Cakes as well as a "food coach:, may I add, my dad was a Master Baker and Konditor ( Confectioner ), I used to live on cake 🙂
The concept for this blog is :
To translate the recipes and write them down for you to try out.
For us ( my wife and myself) to try them out and actually eat what we have cooked or baked, and take a picture of the evidence.
Re-write the recipes, if needed, to make them into a healthy choice recipe.
We called this section Holistic Cooking, because, even if the recipes fail to be super healthy, as long as they are made from natural ingredients and taste good, we argue that the good taste is medicine for the mind, and as important as the ingredients.
Including the mental aspect and the physical part of consuming food makes cooking Holistic. 
read the next blog > Holistic Cooking in Season