Up-coming Health Care Events:
Melbourne - 15th of July (Surrey Hills)
... at 9:30 AM - 5 PM - - - Balwyn Community Centre, Function Room
The "must be attend" Event of the year!
Highlighting major changes, protecting your rights and safety, and leading Natural Health Care into the next decade.
Top of the Industry Speakers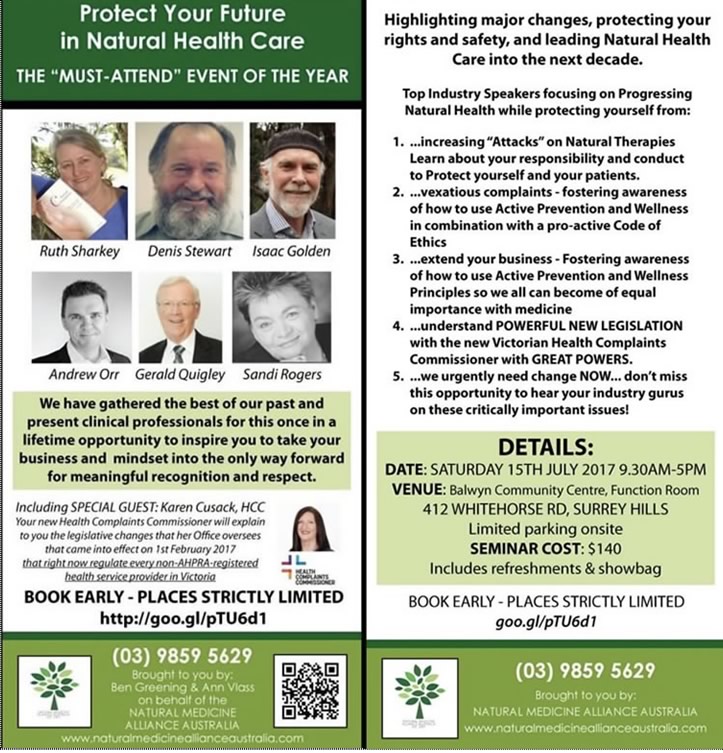 Naturopathic compounding regulations and how compounding pharmacies can be extremely beneficial for patient health.
Presented by: Christopher deLisle Hammond (Jack) Compounding Pharmacist - B.Pharm. Sci. , Master of Pharmacy
Disclaimer: Prevention will support health, but it is not a "guarantee to prevent all diseases". Environmental and Genetically Factors will influence a persons health to a great degree.
Support Co-Regulation and Register for Free - receive a Free Listing:
Select The STANDARD Listing Option

Select the Manual Payment option/bank transfer - Don't Pay, your listing will get activated for FREE!

Once activated, create your listing, selecting "Support Co Regulation" as Category, as well as your practitioner modality (eg. Naturopath - Nutritionist, etc.)
*make sure you add your listing as well as a profile page, and you also can add supportive articles.

If you need help or have questions, please contact me - Dieter L. .. (Admin/Editor)
... compiled by:
Dieter L. Editor of useNature