Studio Gallery Giselle
permanent exhibitions
original works of art
- - -

creative art classes
all levels - all styles
individual teaching
- - -
Gold Cost Hinterland
Scenic Rim - Canungra
useNature's Organic Garden
To find Organic Gardening Resources such as Organic Products or Organic Gardeners
and to give you a hand with your projects, please click the following links>>


.. urgently needed .. listings for Organic Seeds Providers
useNature's Gardening Hints and Tips
Companion Planting:

Who likes to dance with whom .... and ... a bit of natural pest control .. and lets see what else comes up...
Nasturtiums can be planted near Broccoli to help to keep aphis under control ..

Nasturtiums are good for Citrus trees too ... and by the way, they are great in salads .. leafs and flowers ...adds a touch of spice.


Generally all aromatic Herbs are great in the Vegetable Garden, however care has to be taken which aromatic herbs you plant close together. Sweet Basil and Rue definitely don't like each other company, with Basil being one of the sweetest and Rue one of the very bitter ones.


Beans, easy to grow and to nice to eat.
Beans do well with Carrots, Beets and Cauliflowers. Beans may also help cucumbers and cabbages.

Beans don't like the sulphur veggies, Onions, Garlic and Shallots.

I have often planted Beans and Sweet corn together, not only do they like each other, but the beans can climb up on the corn. That's the climbing beans obviously, not the bush beans.

Climbing beans are great as a windbreak for Corn. Corn in return is a good windbreak for bush beans. The beans add nitrogen to the soil, which is good for the corn, you can't lose :-)

Beans don't like Fennel, I wonder if they don't like Dill either ?

Interestingly, Bush beans and Strawberries like each other ... must be the colour the are attracted to .. green and red, always a good combination ... anyhow they benefit each other with stronger growth.


Aphis - Black Fly - Black Aphis - Attacking Broad Beans - Here is a good old herbal pest control .. pick lots of Stinging Nettle and let it ferment in an old bucket or drum of water for 3 weeks. First cut off the tops of the bean plants ( destroying the flies), after that spray with the fermented nettle liquid. It is also good for plant growth promotion, and generally protects most plants against diseases.


Borage is a herb easy to grow, and it will aid Strawberries. However keep the ratio low.... just a couple of plants to a bed of strawberry. By the way Borage may spread easily, watch that it doesn't take over. The Bees love the borage flowers, which is always good for the garden. Borage is also aiding Tomatoes and even helps to improve the taste of Tomatoes. By the way, both the flowers and the leaves are edible. Borage like all other herbs has medical properties as well. Borage tea may be used as a tonic, helps to recover from stress and will promote lactation.
It is said to help hangovers ... let me know if you find out .
Borage is also used by Flower essence practitioners for lack of confidence and to gain courage and optimism.


Cabbage has a bit of a sensitive nature and needs all the help it can get... Serious Vegetable gardeners even use Bio Dynamic Preparation 500 when transplanting cabbage seedling to help against club root. Before you transplant, dip the seedling into the solution, or if not available, make some cow manure liquid and dip seedling into that. By the way, don't grow cabbages into the same bed twice, use crop rotation.
The whole cabbage family is helped by aromatic herbs and plants. Try some Sage, Dill, Camomile, Wwormwood, Rosemary.
Cabbage and Strawberries do not like each other.

The biggest Cabbage pest is the "white cabbage butterfly", the same herbs just mentioned should help for that as well, but please, try this old trick. Place large pieces of eggshells around the garden beds, the Butterfly will think, that territory is occupied :-) ( Did I just say: " The Butterfly thinks" ) .. well here you have it... your Cabbages will be protected by an imaginary army of eggshells. ( China's terra cotta warriors are too busy )


Camomile, everyone knows Camomile, but mainly as a tes for calming and digestive upsets, but it has many other functions.
It is one of the plants used with the Bio-Dynamic Gardening Method as a compost plant. It aids many plants but only in a small ratio, planting too many chamomile plants has the opposite effect. Just have one plant in garden beds to help onions and cabbage.


Caraway .. I only know that seeds help digestionof bread, that's way many breadfs contain caraway seeds... and the aromatic taste and smell. In the garden, Caraway dislikes Fennel.


Carrots, to grow them, it needs a bit of preparation if the soil is very heavy. If you grow a lot, you may want to grow flax or soybeans to loosen the soil. Growing carrots help to grow peas. And Carrots grow ell in companionship with lettuce, chives and radishes.
If oyu hav eproblems with the carrot fly, which can be a troublesome pest, try to grow some repellants around a carrat bed, such as; Onions, Leeks, and stron smellin gherbs like Rosemary, Wormwood and Sage.
If you store carrots, don't store them near apples, it makes carrots taste bitter.




Other topics considered...

No-Dig Gardening: For the lazy Gardener, preserving your energy

Raised Bed Gardening: Beats bending down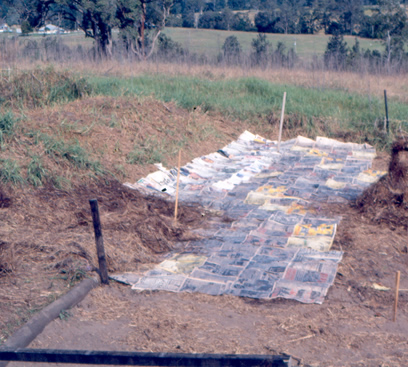 1980 - trying the "no - dig gardening method"
It worked very well ... it is important to water down the newspaper very well - if you don't, you may find that with the next heavy wind, the mulch cover may not be enough to hold the paper in place.
It happened once to us ... the result ... flying newspaper spread out all over the property ... not pretty.
useNature's Editor - yours truly ... Dieter L.

Relaxing after some heavy mulching, composting and planting asparagus crowns .. hmmmm yummy - all in 1980

1980 - The very first "Organic Garden" - hand watered,

terraced garden beds on a north west slope.

At that time we didn't know how unforgiving the summer sun could be.

Actually, between the hot sun, freezing winters and often drought conditions,

organic gardening can become a bit of a challenge.
more pictures to follow
We are looking for Organic businesses who would like to list on the useNature Directory, for the following categories:

Organic Seeds - Organic Plant and Tree Nurseries - Organic Wine - Organic producers ..
.... Free and paid options ...

... thank you for using the useNature.com Directory, cheers Dieter L. Editor

... listen to some music while browsing our pages... load up a second window for useNature produced Alpha Relaxation Music >> simply click here >> SoundCloud - a useNature' Alpha Music Project