Skype and telephone consults available
Qualified Naturopath, Herbalist, Nutritionist, Natural Fertility Specialist, ThetaHealing Practitioner
Good health creates more freedom and choice in our life and enables us to actualise our true potential
Claudette treats women of all ages to regain optimum health and energy by confidently taking control of their hormonal and reproductive lives. She is dedicated to offering the best, scientifically researched natural methods for hormonal balance and fertility.
---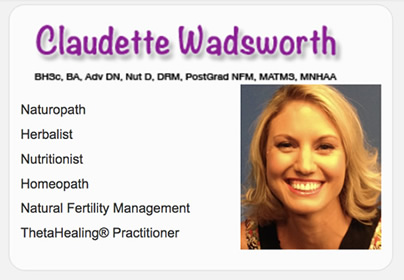 Claudette can teach, support and inspire you to improve the quality of your health through the quality of your living
Claudette is a highly experienced Naturopath and Nutritionist.
Claudette consults women and men of all ages, specialising in hormonal health and fertility.
After having her own baby, she knows first hand the journey of motherhood and the balancing act of life.
She has been a highly sought commentator on Channel 10's Studio 10 You and Channel 7's Live Well programme and has been featured in The Sunday Telegraph and Cosmopolitan magazine.
Without health we cannot enjoy, fulfill and explore our desires but all too often our modern, busy lifestyles make it difficult to achieving optimum health.
Claudette creates individually tailored health programs that are realistic, manageable and effective.
Claudette provides telephone and skype consultations for interstate patients and any products or herbal medicines can be posted to you.
What is Naturopathy?
Naturopathy is an umbrella term which includes nutrition, herbal medicine, homoeopathy, iridology, detoxification if required, allergy and infection control, healthy lifestyle and stress management protocols, together with referral for comprehensive medical blood tests with your doctor to diagnose and monitor your treatment progress.
Claudette has ensured her clinic dispensary is strategically stocked with the best professional grade, scientifically researched products from industry leaders with a comprehensive range of quality herbal medicines and nutritional supplements to make it as easy as possible for you and to ensure the most effective and fastest health benefits.
Everyone can benefit from Naturopathy to restore and maintain optimum health and energy through prevention, education and individualised wellbeing programs. The best, scientifically researched natural methods, balanced with appropriate medical interventions where necessary, are used.
Claudette empowers you to discover yourself as your greatest asset
With her understanding of the legal and corporate culture from previously studying Law for 3 years at the University of Sydney, Claudette now educates busy professionals, women and families on implementing and maintaining a healthy balance in their, often stressful, lives.
Claudette has a unique understanding of how to integrate orthodox medicine together with natural therapies to enhance the client's total quality of life with her prior experience of consulting at the Double Bay Medical Centre as their in-house naturopath. Today Claudette refers her patients to many medical doctors to help integrate the different therapies and for you to achieve the best possible health.
Claudette has spent the last 2 decades specialising in women's and men's hormonal conditions after completing her post-graduate training in Natural Fertility Management.
Her personal interest, reputation, knowledge and experience led her to become a recognised health practitioner in this field, having lectured and written for the Natural Health Society on PMS premenstrual syndrome, BPH prostate enlargement and Menopause.
Claudette understands the unique requirements of competitive athletes having been an active surf life saving member for many years. She has consulted many different sports people of varying fields and ages and coupled this with her own interest in sport to create a breadth of experience.
---
Disclaimer:
The information provided in this article is intended for general use and for personal interest only. It should not be used or understood as suggestion or medical advice.