Book Publishing
Dieter Luske - Writer and editor for useNature
Book Publishing support for authors of health and lifestyle related topics

LU-Books
Publishing Support and Promoting Self-Published Authors and Service Providers
Non Fiction - Fiction - Holistic Philosophies - Memoirs
Promoting Self-Published Authors
LU-Books in association with useNature.com supports by featuring authors and their books.
Featured authors, and writers can apply for free marketing within useNature.com, as well as adding their profile or book to our directories:
---
Publishing Support Services:
Lynne Lloyd will be delighted to assist you through the various writing processes and the preparation of your manuscript for publishing by:
Planning and getting started

Developing your writing skills

Appraising your manuscript

Editing and proofreading

Self-publishing your book www.lloydmosspublishing.com
---
---
Latest Publication
---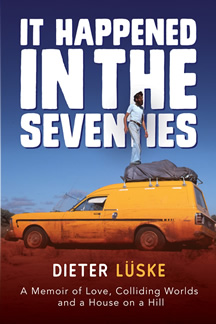 A Memoir of Love, Colliding Worlds and a House on a Hill - Dieter Luske - Writer
An intriguing story of personal risk-taking, self-discovery and profound change.
More than just a Sea Change. Changing countries and finding oneself by circumventing Australia twice, living in a panelvan for two years. Resolving health problems and eventually becoming a Naturopath leaving the old life behind.
An inspiring read of a life-changing escapade Down Under - Phil Brown - Arts Editor The Courier-Mail
Official Book launch - February 2023 - Order now
Dieter Luske -> Author Profile - It happened in the seventies
---
Publishing Support - Blogs and Articles