Canberra Bowen Therapy Information:
Bowen Therapy belongs to the category of applied manual body treatments, sometimes called bodyworks. This category contains many different treatment modalities. For a patient it may be hard to select an appropriate modality for a specific problem, and most people would select a well know modality, such as Therapeutic Massage, Osteopathy or Chiropractic. However it may be to the patients benefit to experience other less well know treatment modalities. If you have a physical, muscle, joint type of problem, I would recommend to seek out the help of a Bowen therapist, and experience the benefits for yourself.
The Bowen Technique was developed by Tom Bowen in Geelong, Australia
Bowen Technique is a dynamic system of muscle and connective tissue therapy that is revolutionising health care world wide. Over the last 45 years, it has successfully helped thousands of people suffering from a wide variety of conditions.
Bowen is safe to use on anyone, newborns to the elderly, with any condition from sports injuries to chronic or organic complaints.
A treatment comprises sequences of small gentle moves, each at a specific site on the body. No forceful manipulation, just a light cross-fibre movement of muscles, tendons or ligaments.
This gentle and effective modality brings substantial relief frequently after the first session, and generally clients only need two or three treatments, usually one week apart. Treatments can be done through clothing when preferred, as no oils are used. Treatment sessions can last from 10 to 50 minutes.
Articles about Manual Therapies
What is Bowen Therapy - What is Miopractic (related to Bowen) - Lymphatic Massage
---
PS: To be part of the useNature Directory, click > list your Healing Business
Disclaimer:
The information provided in this article is intended for general use and for personal interest only. It should not be used or understood as suggestion or medical advice.
---
If your back feels that stiff that you only manage to crawl, it's high time you visit a Bowen Therapist.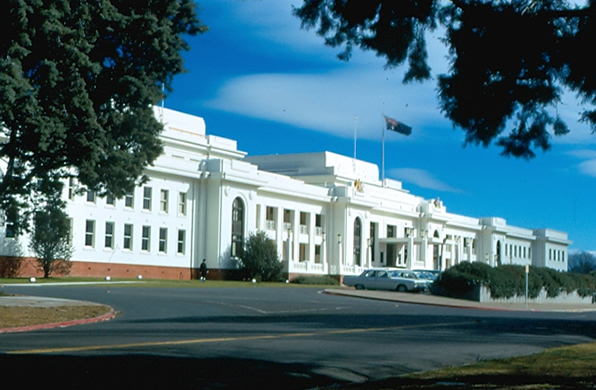 The Old Parliament House - Now the "Museum of Australian Democracy"
Photography by Giselle
Information provided by Naturopath and Editor of Use Nature, Dieter Luske
Contact us - all question answered within 24 hour