Darwin, as well as Alice Spring, have a wide selection from a wide range of Practitioners of all Massage Therapies Modalities as well as Natural Therapies Colleges.

Therapeutic Massage is the systematic and scientific manipulation of soft body tissue. It has been used for thousands of years for relaxation and to restore and promote the good health of both mind and body. It releases chronic tension and pain in muscles, improves circulation, increases flexibility in the joints, and reduces mental and physical fatigue

* By visiting a therapist trained in the therapeutic art of massage, you will experience instant results.
Someone is actually doing something for your muscle pain, headache, migraine, tennis elbow or what ever muscular - skeletal problem you may have. - Isn't that better than getting a prescription for some painkillers? Editor

Massage Therapies and some of the different Massage Modalities

Mobile Massage Services : ( incl. sitting massage)

Find a Corporate Massage Service - click > Corporate Wellness

Find a Mobile Massage Practitioner - click > Mobile Massage

Relaxation massage
This massage is used to promote general relaxation, improve circulation and range of motion, and relieve muscle tension.

Remedial massage
Deep-tissue Remedial massage is used to release chronic patterns of muscular tension. It is applied with greater pressure and to deeper layers of muscle than Relaxation massage.


Lymphatic Drainage massage
This gentle manual treatment improves the activity of the lymph vessels by mild mechanical stretches on the wall of the lymph collectors. In assisting the movement of lymph fluid, this treatment is invaluable in treatment of fluid retention, oedema during pregnancy, post surgical cosmetic surgery, hormonal imbalance, constipation & digestive disorder, Lymphoedema, sinusitis & hay fever, recurring infections, migraines, arthritis, chronic fatigue, stress, and boosts your immune system.

Physical Therapy Modalities
... and some pictures from the beautiful

Northern Territory

View over Alice Spring in 1975 - how does it look now?
View over Alice Spring in 1975
The effect of this Road is nearly as good as a Massage - I am sure is sealed by now.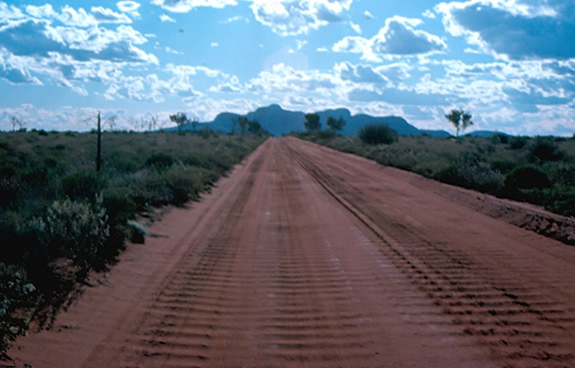 Welcome to West Australia - leaving the Northern Territory 1975