On the surface, similar to Shiatsu and western chiropractic techniques, but in reality the art of Seitai massage has its roots deep inside the ancient Japanese healing system.
Seitai is derived from the principle
that the human body has the power to restore itself naturally to its
normal condition from common illness and injury without external
interference.
This we call body's natural healing power.
While this natural healing power works sub-consciously, various factors that weaken or obstruct its ability to function are revealed to the Seitai practitioner when examining the condition of the body's skeletal frame and muscles.
Seitai is a method that activates the
natural healing power of the body by determining the source of a problem
and thereafter applying the apropriate Seitai technique.
Take for example the Japanese phrase hara o waru; to slit open one's hara/belly.
This phrase isn't literally stating that this is what one does. Instead, it represents one who is sincere and speaks the truth - open and frankly.

When we remember our true nature then we are completely open and at
ease with ourselves and speak the truth. Here we can see that the word hara has greater depth than simply meaning belly.
Yet another example of the less physical sense of the word hara is
hara ga dekite iru; the stomach is complete. This phrase refers to being completely calm in any, and every, situation.
In Japanese esoteric teachings the practitioner reaches a space where complete calm is experienced even in the face of death - this is hara ga dekite iru.
.. read more , click hara
Gardening Column
Organic Gardening
and Companion Planting
Herbs to help you sleep
Creative Art Column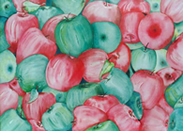 see > Healthy Recipes
Phobia Cure ...
Is there such a thing as a cure for phobias? You be the judge......

...............

and ....
Self-Esteem & Music