SuperSize Me

Thinking Thin

Zone Diet

Massage-Benefits, lots, starting with reduced Stress and Tensions ..
.............
The Magic of Essential Oils .. try some ...
.............
Can Herbs help Chronic Disease?

Quinoa or Quinua (pronounced Keen-Wah) has been called "41 vegetable-caviar" or "Inca-rice", and has been eaten continuously for 5,000 years by people who live on the mountain plateaus and in the valleys of Peru, Bolivia, Ecuador, and Chile.
Quinua translates to "mother grain" in the Inca language and is a staple food of the Inca, the Quechua and Aymara peoples who live in rural regions.

Quinoa is a highly nutritious food. The protein quality and quantity in Quinoa seed is often superior to those of more common cereal grains. Quinoa is higher in lysine that wheat, and the amino acid content is considered well balanced for human and animal nutrition, similar to that of casein.
More about Quinua, click Grains
Gardening Column
Organic Gardening
and Companion Planting
Herbs to help you sleep
Creative Art Column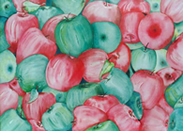 see > Healthy Recipes

Phobia Cure ...
Is there such a thing as a cure for phobias? You be the judge......

...............

and ....
Self-Esteem & Music