Expert Member
Joined 17 Feb 2009
Yvonne Cody
Welcome to Pets for Therapy - Gold Coast Qld.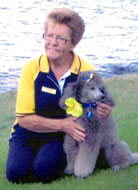 My name is Yvonne Cody and I have been conducting my "Pets for Therapy" program on the Gold Coast for 18 years.
Initially I provided this service alone with my little white poodle "Jo Jo".
Due to ever increasing demand for our service I have recruited and utilized the assistance of many dedicated volunteers and their equally dedicated dogs...........

Pets For Therapy (P.F.T.) is unique in that it facilitates the provision of therapeutic, loving and caring visits to hospitals, hospices, nursing and care homes, and schools, by volunteers with their friendly, temperamentally suitable, obedience trained and qualified dogs.
Our dogs range in breeds and size from the tiny to the large so there's always a dog to suit everyone's taste!
Every week these calm friendly dogs give many people, both young and old, the chance to stroke and talk to them. The dogs perform basic obedience, agility and tricks, however it's the hands on and interaction with both dogs and handlers that brings the rewards...
Winner of the
International Day of Peace Awards PFT
How to become a volunteer?
You are probably a volunteer by heart already, and if you like to support our
"Pets for Therapy" program, please read the following guide lines and contact us.
Do you have an obedience trained dog of good temperament?
Do you have a few hours free?
Would you like to join our happy, friendly group of volunteers, visiting Nursing Homes, Respite Centers, Special Schools, etc.?
Contact Yvonne Cody for more information -


If you don't have a dog, you still can support us, we always are in need of people who help with setups, building props, wrapping gifts, helping with transport, with organisation, fundraising and many more - please contact us.
Animal Assisted Therapy - Research on Pets for therapy
Research continues to validate the very real value of this daily work undertaken in the community by voluntary PFT visitors and their dogs who work amongst those of us most in need of a little extra boost in addition to medical skills and nursing care.
Studies have shown that animals offer many healing benefits to all of us.
They lower blood pressure
Relax respiratory patterns
Encourage social stimulation
Increase confidence and self-esteem
And most of all they bring happiness, joy and unconditioned love...
In health care and other institutions, animals help people in many other ways:
They increase physical motivation...
spark memories and life review...
decrease pain episodes...
encourage speech, and enhance reality orientation.
It has also been discovered that patients in institutions who are visited by animals show a marked increase in willingness to accept medical treatment and care.

Nursing Homes residents and patients often feel isolated and even the most withdrawn seem to open up and let the barriers down when the Pet for Therapies visits them...
Like the people who haven't spoken for years, who have whispered "Good Dog" to one of our dogs....
The companionship of an undemanding animal, who gives unconditional love, is often one of the most missed aspects of their lives.
PFT was formed to help make this loss more bearable and to speed recovery.
Pets For Therapy (P.F.T.)
Profile | Email | Website
Facilitates the provision of therapeutic, loving and caring visits
to hospitals, hospices, nursing and care homes, and schools,
by volunteers with their friendly, temperamentally suitable, obedience trained and qualified dogs.
Gold Coast
South East Qld
QLD
Australia 4215
please e-mail

Map
Gold Coast, South East Qld, 4215, QLD, australia
Pets For Therapy (P.F.T.)
Phone
please e-mail
Articles
Comments